DANCE EDUCATION
Dance programms and cultural festivals are organised at social hotspots. There, dance strengthens local youth and integration work and connects the local community.
HEALTH KNOWLEDGE
Dancers and dance teachers are trained with practical know-how in dance medicine. Health knowledge opens up new employment opportunities.
A matter of heart
Watch the documentary NOW!
SOCIAL IMPACT
Projects took place in Brazil and Equatorial Guinea in 2018 and in the Philippines in 2019 with a big impact on the local communities.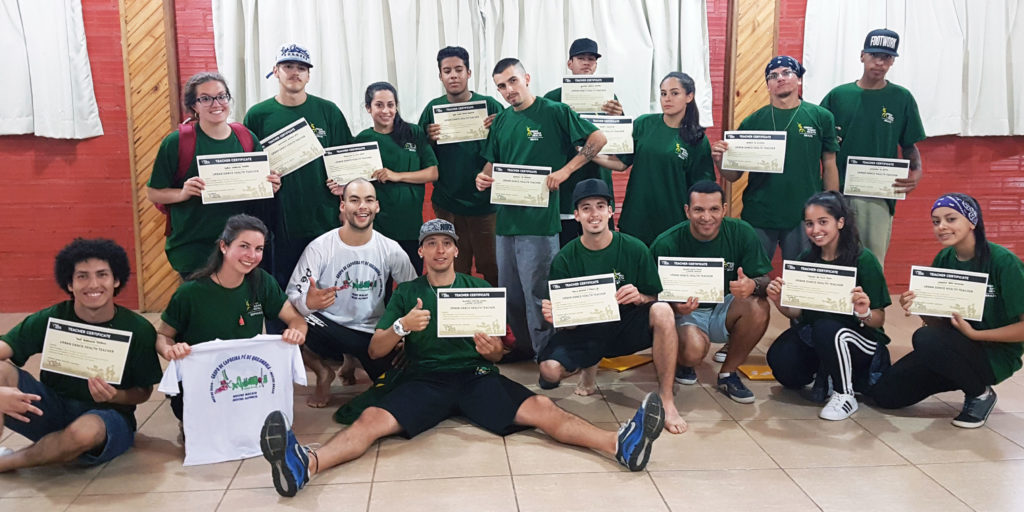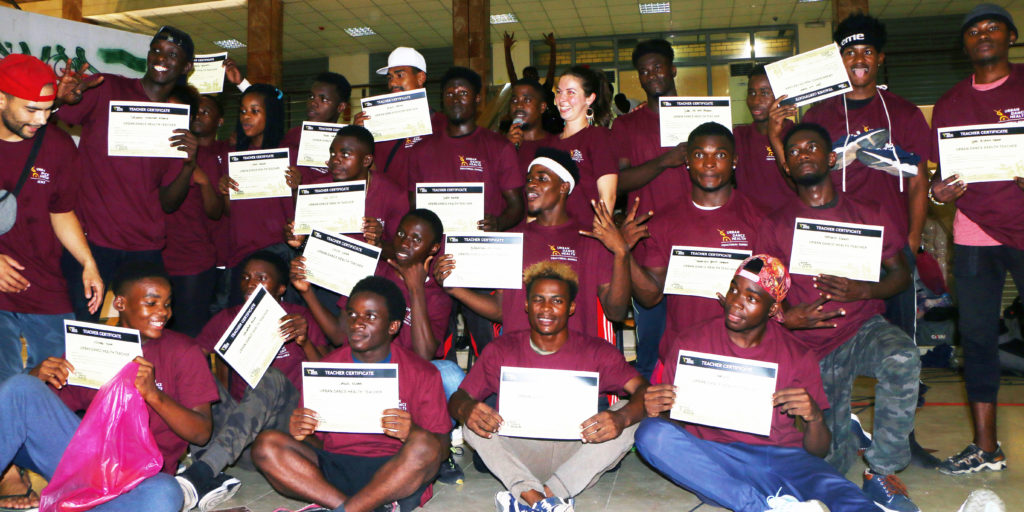 CERTIFIED TEACHERS
The following dance teachers were trained in a three-day course in dance medicine with the main focus on urban dance.
BRAZIL
Caxias do Sul
Geovani De Gregori

Alexsander Machado Leite

Renata Schneider

Andrius De Oliveira

Leonardo De Britto

Tauê Rodrigues Pedroso

FrancielleDa Silva Gomes

Karen Andressa Ferrão

Taiane Da Silva Rosa

Jonathan Merencio Machado

Paulo Henrique F. Franco Jr.

Cassyane Bráz Trindade

João Kleber Kramer Rodrigues

Roni Fernando Kramer Rodrigues

Ricardo Lopes Dos Santos (Mestre Alfinete)

Josimar Maciel Nunes (Mestre Macaco)
EQUATORIAL GUINEA
Bata
Juan Ivo Nze Obiang

Bernardino Edu Esono

Francisco Esteban Nsue

Hugo Ignacio Eko

Luis Epitie

Salomón Engoga Ndong

Celso Loka

Antonio Esono

Salvador Micha

Rafael Moro

Francisco Javier Engono

Carla Obono

Esteban Valentín

Flora Vicenta Ekube

Armando Djoumetiu

Carlos Esono

Juan Carlos

Roberto Efamba

Justo Ngundi

Pedro Baltasar Bibang

José Luis Esono

Braulio Diosdado

Fabricio Larry

Alfonso Oyono

Jose Biyang Oyono

Miguel Massa
PHILIPPINES
MANILA
Ereson Catipon

John Michael Ladera

Rafael Imperial

Marjon Shakur Paredes

Leal Marie Diaz

Melvin Ang

Abi Tarog Francia

Jayril Yumul

Kurt Ocampo

Arwin John E. Harina

Lovely Mitra

Carl Harold R. Dinampo

Charles John M. Torres

John Paul Fausto

Carmelo T. Osorio Jr.

Stephanie Anne Sy

John Matthew Quiambao

Nel Aiko Jerome Rosario

Mary Chris Villoso

Miguel Casado

John Peter Baturiano

Jane Borbe

Teodorico Borbe